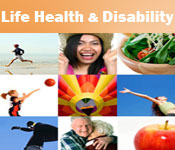 Our agency offers a wide variety of life, health, disability, and other personal risk coverage solutions to meet your needs and budget. Additionally, we support our programs with individual customer care services to ensure that your protection is tailored to your unique circumstances.
Life Insurance
Choosing the proper life insurance policy can be daunting at best. Which type that's right for you is dependent upon many factors including your budget, the amount of coverage you need, and the length of time you would like the coverage to last.
Term Life Insurance is often the least expensive method of securing life insurance. Our policies provide protection for a limited period of time and pay a death benefit if you die during that policy period. We are able to help you secure coverage at a guaranteed premium level for 10, 15, 20, and 30 years (with premiums increasing annual after that period) and the ability to convert your policy to a permanent insurance plan (universal or whole life) prior to the expiration of the policy period (certain restrictions apply).
Our Permanent Life Insurance offers the benefit of lifetime protection and can also build cash value that can be accessed prior to your death if needed, depending upon the policy selected. Examples of these permanent plans include Variable Life Insurance, Universal Life Insurance, Whole Life Insurance, and Survivorship Life Insurance. Each policy has unique benefits and features which can be tailored to meet your needs.
Life insurance is also a valuable protection for businesses. Perpetuation and continuation of the business can be secured through the use of a Keyman Life Insurance policy and other types of life insurance plans. Additionally, we are able to provide group life insurance as an added benefit to your employees.
It is important to take time to visit with us about your life insurance choices in order to select the most beneficial policy for you.
Health Insurance
In these changing times, health insurance has never been more important and confusing. Our agency works with qualified, professional companies in order secure coverages to best meet your budgetary and coverage needs. Health plans can be tailored to provide comprehensive coverage with lower deductibles and copayments for those who wish to have a little out-of-pocket expense as possible. For those desiring lower premiums, plans can be constructed to include higher or no copayments and higher deductibles. Prescription, dental, and vision coverages can be added to selected plans based on your desires and needs. Additionally, Health Savings Accounts are also a good way to take control of your health insurance costs and our agency can provide you with information in order to take advantage of this benefit.
We also offer a variety of short term health insurance plans which can be used to bridge the gap between eligibility for group insurance with your employer, students or young people no longer eligible for their parent's policies, persons awaiting Medicare eligibility, persons awaiting underwriting and approval of a permanent health plan, and a variety of other situations in which health insurance is needed for a short period. Coverage can be obtained for 1 to 6 months with minimal underwriting required and most policies can be effective the day after the completed application is signed, paid, and mailed to the insurance company.
Our agency is able to provide your business with excellent group health insurance plans as well.
With so many choices, it is important to take time to visit with us about your health insurance needs in order to select the most beneficial policy for you.
Disability Insurance
Disability insurance protects your earned income against the risk that disability will prevent you from working and continuing to earn a living. It can include sick leave, short term disability, and long term disability benefits. Benefit amounts differ based upon occupation and salary levels and are not designed to replace 100% of your earned income. Disability policies can provide protection for up to 2 or 5 years or through age 65, dependent upon the insurance company and we can help design a disability income plan to protect your needs.
Long Term Care Insurance
Long Term Care Insurance provides protection for you in the event you require long term health care beyond a predetermined period after which health insurance, Medicare, and Medicaid do not provide coverage. Qualification for coverage generally includes the inability to perform basic "Activities of Daily Living" such as dressing, bathing, eating, toileting, getting in and out of bed, and walking. Age is not a factor in coverage for long term care as many persons in need of this care are under the age of 65. Benefits usually include a specific daily dollar amount of care benefit and can be tailored to meet your desires and coverage needs.
Travel Accident Insurance
We are able to provide you with protection for your health needs while traveling or if you are unable to travel because of certain situations. If you are traveling abroad we can provide a short term medical plan to meet your needs. If you are awaiting Medicare eligibility we can provide a "Bridge Plan" policy that is affordable and effective. If you are unable to travel due to an injury or illness (certain restrictions apply) prior to your trip we are able to help you recover certain deposits and expenses. We can help with these and a variety of other health related travel needs.
Get A Quote