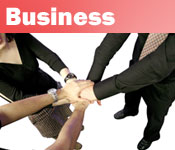 Our agency understands the unique exposures that each different type of business presents. We have an extensive resources that enable our agency to safeguard your business against the adverse financial effects of property and liability losses, including employee related exposures, professional liability risks, bonding needs, and a myriad of other commercial insurance protections.
Commercial Packages
Our Commercial Package Policy (CPP) is designed for those larger businesses or other enterprises that do not fit into one of our specialized programs (such as Business Owners, "BOP XTRA" or Special Trade Contractors' programs). This product is designed to be flexible, in that a business owner may pick and choose from a list of monoline insurance coverages to provide the customized protection desired. Property and liability protection may be selected from the following list of monoline insurance coverages:
Commercial Fire and Allied Lines Insurance
Commercial General Liability Insurance
Commercial Automobile Insurance
Commercial Inland Marine Insurance
Commercial Crime Insurance
Commercial Excess Liability (Umbrella) Insurance
Workers' Compensation Insurance
Our Commercial Package Program (CPP) enables you to build a portfolio of coverages designed to fit the unique qualities of your business. You can protect your building and business personal property, and add coverage for the liability exposures presented by your business by selecting the Commercial Fire and Allied Lines and Commercial General Liability Lines of Insurance. Our Business Owners or Special Trade Contractors programs can also complete these coverage requirements when added to the Commercial Package Policy.
Business Owners Packages
Our Business owners Insurance program has been designed to fill your unique business insurance needs and provide the protection you want! Property coverage is provided for your building and contents, and liability coverage is provided for the legal liability exposures unique to your business.
Your business personal property is also covered for the specific limit you choose, whether in your place of business or in transit. In addition, we offer a broad array of optional coverages to fill those "special" needs of most business owners. The result is a custom-tailored insurance plan just for you.
Worker's Compensation
Workers' Compensation Insurance policies provides the protection necessary to your business in compensating employees for medical expenses and lost wages that result from a work-related injury. Our companies offer competitive rates and attractive dividend plans that reward favorable safety records with return of premium dollars.
Commercial Auto
An essential coverage required by most businesses is Commercial Automobile Insurance. Adding this coverage to your Commercial Package Portfolio provides property damage and liability protection for a single vehicle or an entire fleet of vehicles. Additionally, we can provide protection to you for rented vehicles or vehicles not owned by the business but driven for business purposes.
Flood
Flood is NOT covered under a commercial property or business owners policy, thus a separate policy must be obtained for this protection. Under the National Flood Insurance Program (NFIP) a flood is defined as a general and temporary condition of partial or complete inundation of normally dry land by:
The overflow of inland or tidal waters.
The unusual and rapid accumulation or runoff of surface waters from any source.
Mudslides (i.e., mudflows) which are proximately caused by flooding, as defined above and are akin to a river of liquid and flowing mud on the surfaces of normally dry land areas, including your premises, as when earth is carried by a current of water and deposited along the path of the current.
The collapse or subsidence of land along the shore of a lake or other body of water as a result of erosion or undermining caused by waves or currents of water exceeding the cyclical levels which result in flood as defined above.
To qualify as a general and temporary condition, the flood must affect either two or more adjacent properties or two or more acres of land and have a distinct beginning point and ending point. Also, to qualify, the flood waters can only be surface water that covers land that is normally dry.
Flood protection can be obtained protecting the actual structure of your building as well as your commercial belongings within the structure with certain restrictions. There are specific guidelines governing protection of items and regulating when coverage can be placed into effect (often there is a 30 day waiting period). Consult with one of our agents to determine the specifics.
Employment Related Practices
Special protection is needed against the multitude of employment practices lawsuits filed every day. We can protect you against most risks of loss from liability associated with wrongful employment practices including discrimination, sexual harassment, and wrongful termination.
Bonds
We understand that many businesses need bonding protection in order to conduct business. We are able to protect you through a variety of bonds Fidelity and Surety Bonds including but not limited to:
Crime Bonds (Money and Security Bonds, Employee Dishonesty Bonds, Theft Bonds) Probate, Judicial, License and Permit, Miscellaneous Indemnity, Public Official, Tax Bonds, U.S. Customs Bonds, ERISA bonds, Notary Bonds, Contract/Bid bonds, and others.
Inland Marine/Equipment Floater
Coverage can be obtained to protect the wide variety of equipment and tools that you utilize in your daily activities. Protection can extend to owned, leased, or rented equipment such as lawn tractors, backhoes, forklifts, snow plows, bulldozers, welders, compressors, and other equipement. Additionally, coverage can be obtained for installation exposures.
Garage Liability
Our garage liability protection combines coverage for property, such as buildings and business personal property, with the liabilities unique to auto/garage businesses. Protection is available for owned vehicles as well as non-owned vehicles used in the garage business. Additionally, coverage can be obtained for automobiles held for sale as well as vehicles being serviced or repaired. Protections can be obtained on a legal liability basis (covering only if the garage owner is legally responsible for the damage) or on an expanded basis providing direct primary or excess coverage.
Contractor's Package and Equipment
Our Special Trade Contractor's Program caters to artisan contractors as a specialized program designed to address the specific insurance needs of a contracting business. Property coverage is provided for your building and contents, and liability coverage is provided for the legal liability exposures unique to your business.
Your tools and equipment can be covered – whether they are in your shop, in your truck or at the job site. From small hand tools to larger equipment like backhoes – all can be insured in our Contractor's Program. Contractors' materials, supplies and fixtures awaiting and during installation may also be covered.
In addition, we offer a broad array of optional coverages to fill those "special" needs of contractors. The result is a custom-tailored insurance plan for you.
Builder's Risk
Builder's risk insurance usually protects against losses due to fire, vandalism, lightning, wind, and similar forces during the course of construction of a dwelling. It usually does not cover earthquake, flood, acts of war, or intentional acts of the owner. Theft of materials can also be obtained. Protection can be obtained per structure being built or on a blanket, reporting form basis to make coverage more convenient for your needs.
Cargo
We are able to provide protection for your legal liability while you are transporting property (cargo) of others. Motor truck cargo insurance protection is required under the Motor Carrier Act of 1935. The policy covers the motor truck carrier if it is legally liable for the destruction, damage, or other loss of the property being shipped. This includes stolen, broken and lost articles. Two types of policies are available: (1) those that list the specific trucks to be covered in which the property may be damaged or destroyed; and (2) those that cover all of the insured's trucks, with no specifically listed trucks. This coverage is written on the Gross Receipts Form, which covers all operations of a motor carrier.
Errors & Omissions/Professional Liability
Businesses that offer services to their clients, such as advice or consulting, require the protection of an errors and omissions insurance policy. This coverage can protect your business against most mistakes, misunderstandings, delayed services, errors, or omissions made by your company that result in actual damage or loss to your client. Coverage can be tailored to meet your unique needs.
Director's & Officer's Liability
Director's and Officer's (Board) Liability offers financial protection to these position holders in the event they are sued in conjunction with the performance of their duties for your company. Protections can often include Employment Practices Liability (see above) as well as Fiduciary Liability. Coverage is also provided for defense costs suffered as a result of a lawsuit for alleged wrongful acts. This coverage is invaluable because a director can be held personally responsible for acts of his/her company and as such, many persons may not be willing to sit on your board without assurances of protection for their personal assets. Each insurance coverage form is different and should be reviewed in depth with your agent to determine your protection needs.
Commercial Umbrella
Adding a Commercial Excess Liability (Umbrella) Insurance policy to your Commercial Package Policy portfolio provides an additional layer of liability protection over and above that provided by underlying commercial policies such as Businessowners, Special Trade Contractors, General Liability and Commercial Automobile. This additional liability coverage protects your business assets against multi-million dollar lawsuits which may develop as a result of catastrophic incidents. Should your business be held legally responsible for such an incident and your underlying policy limits are exhausted, the Commercial Excess Liability Policy will provide coverage up to the selected policy limit amount.
Get A Quote