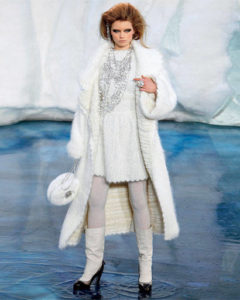 The woman stood in front of her closet with a pained look upon her face staring at the shelves and racks of clothing. Some days, this was the most difficult decision she faced all day — what to wear! Thank-goodness for some simple guidelines that aid in this process:
1) Pajamas should not be worn in public – While this trend seems to be all the rage (have you been to a Walmart lately?), PJ's are for lounging, sleeping, and that's about it.
2) Underwear should be under your clothing – (duh) It is an oxymoron to have under garments not concealed under something and sticking out the top of your pants or showing through your see-through attire. Have a smidgen of modesty, please!
3) If it's cold enough for boots and a scarf, it is too cold for shorts or a mini-skirt – This seems to be the newest trend but bare arms and legs paired with furry Ugg boots and 100 degree weather? Can you say "sweaty feet"? Seriously?
And the oldie but a goodie":
4) No white after Labor Day – Of course with the advent of "winter white" the adage of not wearing white before Memorial Day or after Labor Day needs to be modified a tad. Wearing wool or sweaters in white is not only acceptable, it is very upscale and fashionable. (The winter white model shown above may still need some fashion counselling but who's to judge????)
Hopefully these fashion words of wisdom will aid you as you don the proper attire this Labor Day. Also, as you are staring into your closet, why don't you take a quick inventory of your clothing, and the rest of your possessions too, while you are at it. What replacement value figure do you get? Does your insurance policy cover at least that much, if not more?
If you are unsure or if you need help just starting your inventory, call or click to contact the knowledgeable agents at The Writer Agency, LLC. 308-436-4202 or www.insurance-by-katie.com We can answer your questions and even provide you with a simple Inventory Calculator Form to aid you in the process.
Most fashionistas spend years acquiring and maintaining their wardrobe….it's only smart to spend a little time ensuring that it is protected properly. Don't you think?
Have you seen a "fashion nightmare" (or maybe YOU were the fashion nightmare?) Share your story!