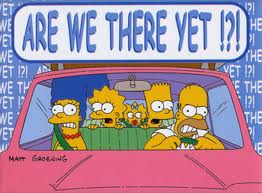 "Are we there yet?"….."Are we there yet?"….."He's touching me!"…."She's looking at me!"…."I have to go potty, NOW!"….."Are we there yet?"…..
Ahhh, the endearing sounds that sweetly dance upon the airwaves from the back seat and are a rite of passage handed down from generation to generation of family travelers for the sole purpose of allowing the younger generation to totally and completely annoy the older generation.
Admit it, we've ALL said those words at some point in our lives so who can begrudge our own angelic offspring the opportunity to participate in the same right of passage? And you have to admit that we have it better than our parents and grandparents ever did. Today we travel with iPods, iPads, MP3 players, DVD players and the list goes on. My poor parents endured endless repetition of books-on-tape (yes, I am dating my self, I had real cassette tapes) which were played over and over on a portable tape player without the mercy of ear phones. With the newest gadgets equipped with "noise cancelling" earphones and airplane modes, I fear that my mother's highly developed skill of "tuning it all out" will become a dying art!
So how do we survive these memory building, fun family vacations?
AAA Travel specialist, Deb Hyde recommends the following in AAA Living Magazine:
1) Have a family meeting before you go to gather ideas from each family member and be sure to try to include something for everyone.
2) Come together for at least one meal or activity each day to share experiences and create family bonding time.
3) Plan down time into the itinerary or you will end up needing a vacation to recover from vacation!
Lastly, don't forget to make sure the personal items you are taking with you are properly insured against theft or loss while you travel and that your excursions via vehicle are protected by AAA Emergency Roadside Assistance Membership to ensure minimal trip interruption. Call our knowledgeable agents at The Writer Agency, LLC. 308-436-4202 or contact us on our website where you will find other valuable insurance information: www.insurance-by-katie.com. We can't guarantee we can eliminate all the "Are we there yet?" inquiries but we can make the getting there and back a bit less stressful by giving you peace of mind that you are well protected.
Share your travel and vacation plans or past experiences by leaving a post! We would love to hear from you.